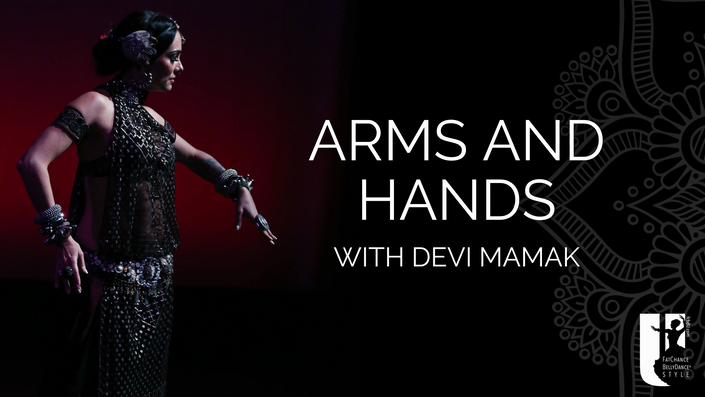 Arms and Hands
Devi's tips and tricks for powerful, strong and graceful arms
In this workshop dedicated to the beautiful arm and hand work that we love about FCBD®Style, Devi will share with you all her tips and tricks for powerful, strong and graceful arms.
We will also take a look at the upper body and it's relationship to arms.
Please note: By enrolling in any of the courses on FCBD®U, you are agreeing to our Terms and Conditions
Your Instructor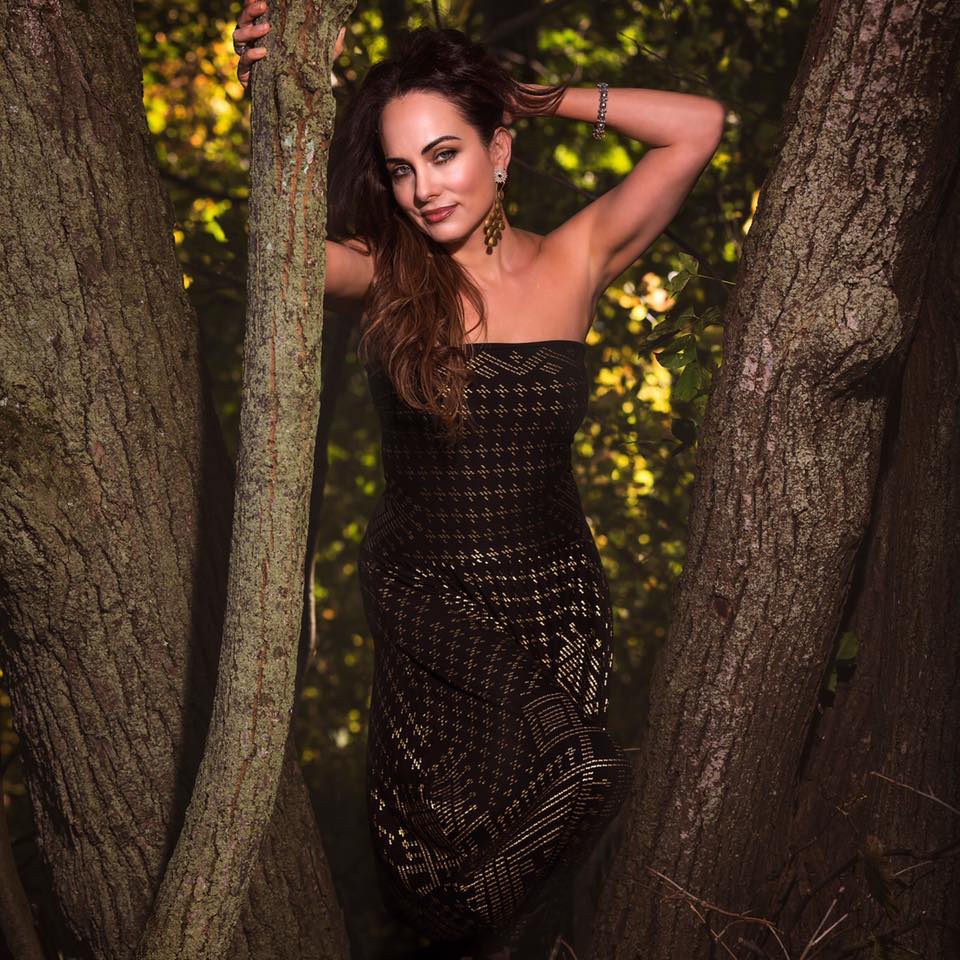 Devi Mamak is troupe member and artistic director of the award winning Caravan Dance company (formerly Ghawazi Caravan), based in the Blue Mountains, NSW, since 2000. She is considered one of Australia's premier 'Tribal' Bellydancers, teachers and choreographers, having trained many of the top dancers in the genre. Devi has earned a reputation as a patient and thorough teacher. As a performer she is renowned for her strong stage presence and innovative, colourful choreographies.
Highly sought after as a teacher and performer, Devi regularly teaches around Australia and NZ, Asia, Europe and the U.S.A.
Devi has also studied a variety of Middle Eastern dance styles herself for well over a decade as well as Flamenco, Classical Indian and Ballet. Devi has travelled to San Francisco several times to study with the masters of 'Tribal' Bellydance and has dedicated herself to FCBD® since 1999.
Devi was the first person in Australia to be accepted into Carolena Nericcio's intensive Teacher Training Course. Devi has received her teaching accreditation in the highly regarded Fat Chance Belly Dance (FCBD)® format in 2005 with several of Caravan Dance Company's movements being accepted into the format, featured and featured in the FCBD® Volume 9: Anatomy of a Step. Devi has been invited to perform and co-teach the General Skills test with Carolena both in Australia and Taiwan.
Devi and the Caravan Dance Company have released their first instructional DVD Devi's Inspired Combinations Vol 1 in 2012.
In 2022 Vol 2 & 3 was released with a full full length music CD Ourboros by Devi Mamak and the Caravan Band. Devi is a classically trained musician and composer and this album contains all original compositions and arrangements by Devi and her 6 piece world fusion classical/jazz band.
Devi has also collaborated with well known dancers such as Deb Rubin and was invited to be part of Bellydance Evolution by Director Jillina Carlando where she got the opportunity to work alongside Jillina, Kaeshi Chai, Sharon Kihara and other great artists.
Devi regularly performs at functions ranging from community events, festivals, as well as private and corporate functions. Devi has been invited to be a part of major funded productions such as Unmasked and The Firebird where she had the opportunity to work collaboratively with dancers and musicians of various styles including Mory Trarore, Emily Cooper, Helm, Colin Berryman, Pandit Ramchandra Suman, John May, Miriam Leiberman, Elizabeth Cameron Dalman and Keith Kempis.
Other artistis Devi has worked with include Jrisi Jusakos, Karen Gehrman, Tarek Sawires, Andy Bussutil, Skorba, Sekhyl and Hyde, Solace, Jeff Rees, Bobbi Singh, Al Maha, Karen Wray, Lester Iyves, Waiting for Guiness, Paulette Rees Denis, Belyssa Radzivanas, Achusla, Amera Eid and Hilary Cinis.
In 2009, Devi and Caravan Dance company, (then named Ghawazi Caravan) received funding from The Cultural Partnerships program to produce Intertwine. This was a uniquely diverse show that drew together dancers, musicians and artists of varied disciplines and styles, braiding their talents together into a compelling and cohesive whole, intertwining cultural traditions and an ebullient creative spirit, presenting the result in a theatre style environment. Intertwine was a huge success which included 3 sell out shows. The next installment of Intertwine was picked up by the Sydney Fringe Festival for September 2010.
After 20 years of weekly classes in the Blue Mountains, Devi has now retired from regular teaching but still holds regular workshops and intensives for all levels.
Devi is a classically trained, accredited piano teacher and composer who teaches weekly piano lessons. She is involved in several performance duos with various world musicians, her own world fusion jazz band, Devi Mamak and the Caravan Band, as well as performing with a local disco band.
She is the mother of two talented adult children and lives a peaceful life with them, her partner and her cat Koshka on the edge of the national park in the Blue mMountains.
To find out more about Devi's music career check out her website: www.devimamak.com.au
Frequently Asked Questions
When does the course start and finish?
The course starts now and never ends! It is a completely self-paced online course - you decide when you start and when you finish.
How long do I have access to the course?
How does lifetime access sound? After enrolling, you have unlimited access to this course for as long as you like - across any and all devices you own.
Terms and Conditions:
The website is owned by DeAnna Freeman and Prana BellyDance and Yoga, LLC

By viewing this website or anything made available on or through this website, including but not limited to [PROGRAMS, PRODUCTS, SERVICES, OPT-IN GIFTS, E-BOOKS, VIDEOS, WEBINARS, BLOG POSTS, E-NEWSLETTERS, CONSULTATIONS, E-MAILS, SOCIAL MEDIA AND/OR OTHER COMMUNICATION][INCLUDE ALL THAT APPLY TO YOU] (collectively referred to as "Website"), you are agreeing to accept all parts of this Disclaimer. Thus, if you do not agree to the Disclaimer below, STOP now, and do not access or use this Website.

1. FOR EDUCATIONAL AND INFORMATIONAL PURPOSES ONLY.
The information provided in or through this website is for educational and informational purposes only and solely as a self-help tool for your own use.

We think this goes without saying, but as a reminder, this is physical exercise and while our instructors be guiding you through each and every step, it is an online course so we are not able to physically see you to correct movements. We trust everyone to work to their own edge and take breaks or back off intensity as needed.
We recommend you consult with your physician before beginning any exercise program. You should be in good physical condition and be able to participate in the exercise.
If you engage in this program, you agree that you do so at your own risk, are voluntarily participating in these activities, assume all risk of injury to yourself, and agree to release and discharge DeAnna Freeman and all instructors on this websute from any and all claims or causes of action.**

2. NOT MEDICAL, MENTAL HEALTH, OR RELIGIOUS ADVICE.
Instructors of FCBDU are not, and not holding ourselves out to be a doctor/physician, nurse, physician's assistant, advanced practice nurse, or any other medical professional ("Medical Provider"), psychiatrist, psychologist, therapist, counselor, or social worker ("Mental Health Provider"), registered dietician or licensed nutritionist, or member of the clergy. As Health Educators, Yoga Instructors and/or Dance Instructors, we are not providing health care, medical or nutritional therapy services, or attempting to diagnose, treat, prevent or cure any physical, mental or emotional issue, disease or condition. The information provided in or through this Website pertaining to your [HEALTH OR WELLNESS, EXERCISE, NUTRITION, RELATIONSHIPS, MENTAL HEALTH, LIFESTYLE], or any other aspect of your life is not intended to be a substitute for the professional medical advice, diagnosis or treatment provided by your own Medical Provider or Mental Health Provider. You agree and acknowledge that we are not providing medical advice in any way. Always seek the advice of your own Medical Provider and/or Mental Health Provider regarding any questions or concerns you have about your specific health before implementing any recommendations or suggestions from our Website.
3. INDEMNIFICATION AND RELEASE OF CLAIMS.
You hereby fully and completely hold harmless, indemnify and release me and any of my agents, consultants, affiliates, joint venture partners, employees, shareholders, directors, staff, team members, or anyone otherwise affiliated with my business or me from any and all causes of action, allegations, suits, claims, damages, or demands whatsoever, in law or equity, that may arise in the past, present or future that is in any way related to this Website.

4. NO ENDORSEMENT.
References or links in my Website to the information, opinions, advice, programs, products or services of any other individual, business or entity does not constitute my formal endorsement. We are merely sharing information for your own self-help only. We are not responsible for the website content, blogs, e-mails, videos, social media, programs, products and/or services of any other person, business or entity that may be linked or referenced this Website. Conversely, should this website link appear in any other individual's, business's or entity's website, program, product or services, it does not constitute my formal endorsement of them, their business or their website either.


If you have any questions about this Disclaimer, please contact us at [email protected]