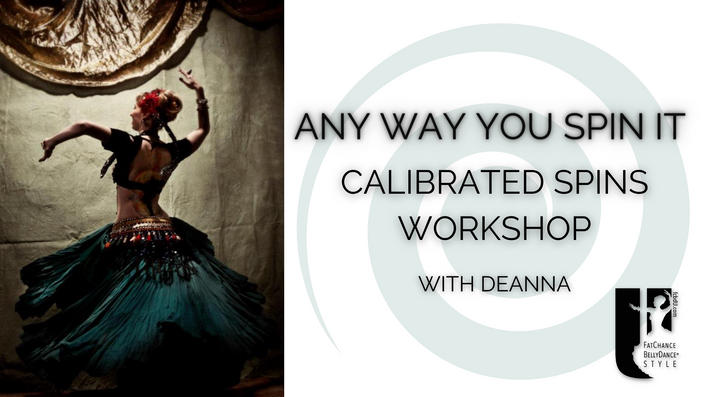 Any Way You Spin It: Calibrated Spins Workshop
Spotting, Spinning and Specifics
Are you ready to feel stronger, more graceful and have better balance during spins?
Get ready to feel the exhilaration or spins in a new way!
This class is more than just detailed technique!
This workshop begins with a special designed warm up for balance and spins.Then we'll move into spotting concepts with drills followed by spinning technique with plenty of drills and tips to help reduce dizziness.
You'll learn the various cues, trouble shooting the most common challenges and work through transition options for all levels.
Finally we'll end with a brief cool down to help recenter your energy to leave you feeling peaceful, yet invigorated.
We recommend you be familiar with the Swivel Step (Basic Egypian) prior to taking this course.
Optional: Triple Swivel (Triple Egyptian)

Please note: By enrolling in any of the courses on FCBD®U, you are agreeing to our Terms and Conditions

Course Curriculum
Any Way You Spin It
Available in days
days after you enroll
Your Instructor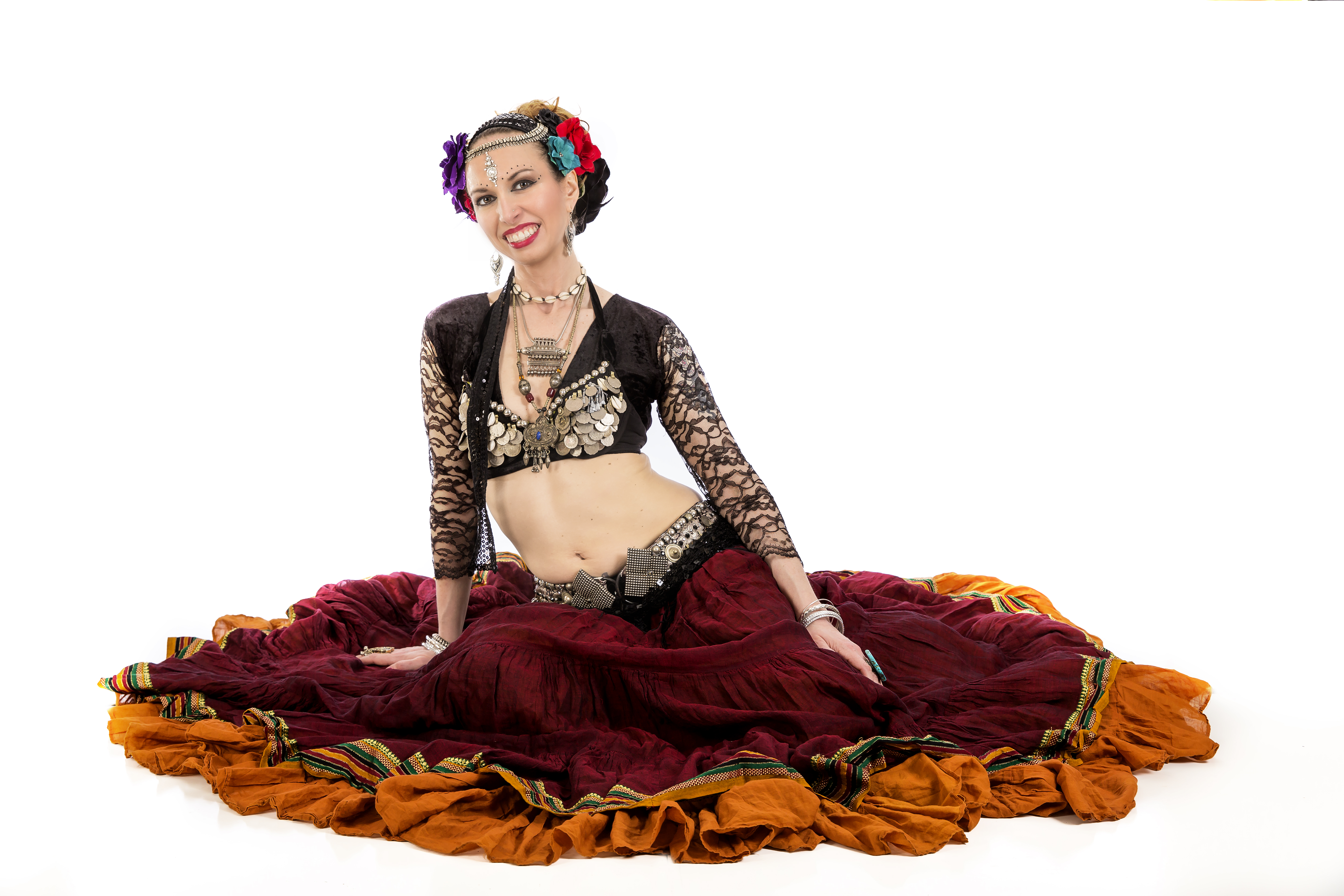 DeAnna has studied and taught FatChanceBellyDance® Style, or FCBD® Style (formerly known as American Tribal Style or ATS®) belly dance and yoga for over 17 years. She has a passion for the artistic qualities as well as the scientific and structural elements of movement and believes in the power of these practices to align the mind and the body. She has spent years exploring how these relate to holistic and artist components of dance and yoga.
Her dance journey began when she met Megha, Director of Devyani Dance Company in 2004 and fell in love with FCBD®Style. Since then, DeAnna has dedicated her dance career to receiving the highest level of training and establishing herself as a leading professional in the FCBD®Style community. She was in the very first to receive Sister Studio and Teacher Certification outside of FatChance BellyDance®, is one of the few FatChance Continuing Education instructors in the world, was part of the inaugural FCBD®Style Advanced Teaching Training group, and had the pleasure of teaching and performing throughout the United States as well as in India. Her love of dance, movement and anatomy also led her to immerse herself in yoga study, becoming a registered Yoga Alliance Teacher (200hr and then 500hr RYT) and gaining a number of specialty certifications.
DeAnna's classes empower her students to align their mind and body through dance and yoga. Through gaining an awareness of the scientific and structural elements of movement, together with an appreciation for the holistic and artist components, students unlock the hidden potential that is already within themselves. She prides herself on a relaxed and professional teaching style that allows students to elevate their skills in a safe, positive and fun learning environment
She is currently offering belly dance and yoga classes in the Portland Area, Facebook live courses, online private sessions and a range of specialty workshops.

Frequently Asked Questions
When does the course start and finish?
The course starts now and never ends! It is a completely self-paced online course - you decide when you start and when you finish.
How long do I have access to the course?
How does lifetime access sound? After enrolling, you have unlimited access to this course for as long as you like - across any and all devices you own.
Terms and Conditions:
The website is owned by DeAnna Freeman and Prana BellyDance and Yoga, LLC

By viewing this website or anything made available on or through this website, including but not limited to [PROGRAMS, PRODUCTS, SERVICES, OPT-IN GIFTS, E-BOOKS, VIDEOS, WEBINARS, BLOG POSTS, E-NEWSLETTERS, CONSULTATIONS, E-MAILS, SOCIAL MEDIA AND/OR OTHER COMMUNICATION][INCLUDE ALL THAT APPLY TO YOU] (collectively referred to as "Website"), you are agreeing to accept all parts of this Disclaimer. Thus, if you do not agree to the Disclaimer below, STOP now, and do not access or use this Website.

1. FOR EDUCATIONAL AND INFORMATIONAL PURPOSES ONLY.
The information provided in or through this website is for educational and informational purposes only and solely as a self-help tool for your own use.

We think this goes without saying, but as a reminder, this is physical exercise and while our instructors be guiding you through each and every step, it is an online course so we are not able to physically see you to correct movements. We trust everyone to work to their own edge and take breaks or back off intensity as needed.
We recommend you consult with your physician before beginning any exercise program. You should be in good physical condition and be able to participate in the exercise.
If you engage in this program, you agree that you do so at your own risk, are voluntarily participating in these activities, assume all risk of injury to yourself, and agree to release and discharge DeAnna Freeman and all instructors on this websute from any and all claims or causes of action.**

2. NOT MEDICAL, MENTAL HEALTH, OR RELIGIOUS ADVICE.
Instructors of FCBDU are not, and not holding ourselves out to be a doctor/physician, nurse, physician's assistant, advanced practice nurse, or any other medical professional ("Medical Provider"), psychiatrist, psychologist, therapist, counselor, or social worker ("Mental Health Provider"), registered dietician or licensed nutritionist, or member of the clergy. As Health Educators, Yoga Instructors and/or Dance Instructors, we are not providing health care, medical or nutritional therapy services, or attempting to diagnose, treat, prevent or cure any physical, mental or emotional issue, disease or condition. The information provided in or through this Website pertaining to your [HEALTH OR WELLNESS, EXERCISE, NUTRITION, RELATIONSHIPS, MENTAL HEALTH, LIFESTYLE], or any other aspect of your life is not intended to be a substitute for the professional medical advice, diagnosis or treatment provided by your own Medical Provider or Mental Health Provider. You agree and acknowledge that we are not providing medical advice in any way. Always seek the advice of your own Medical Provider and/or Mental Health Provider regarding any questions or concerns you have about your specific health before implementing any recommendations or suggestions from our Website.
3. INDEMNIFICATION AND RELEASE OF CLAIMS.
You hereby fully and completely hold harmless, indemnify and release me and any of my agents, consultants, affiliates, joint venture partners, employees, shareholders, directors, staff, team members, or anyone otherwise affiliated with my business or me from any and all causes of action, allegations, suits, claims, damages, or demands whatsoever, in law or equity, that may arise in the past, present or future that is in any way related to this Website.

4. NO ENDORSEMENT.
References or links in my Website to the information, opinions, advice, programs, products or services of any other individual, business or entity does not constitute my formal endorsement. We are merely sharing information for your own self-help only. We are not responsible for the website content, blogs, e-mails, videos, social media, programs, products and/or services of any other person, business or entity that may be linked or referenced this Website. Conversely, should this website link appear in any other individual's, business's or entity's website, program, product or services, it does not constitute my formal endorsement of them, their business or their website either.


If you have any questions about this Disclaimer, please contact us at [email protected]