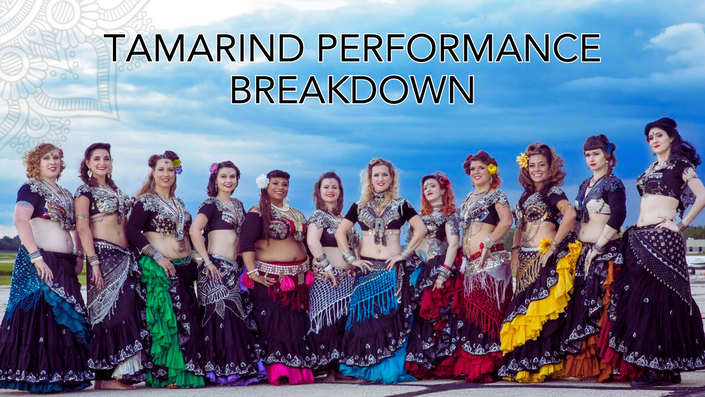 Tamarind Performance Breakdown
Play-by-Play with Super Beth
In this class, we dissect a performance by understanding motives, staging, and concepts through the dancers' lens. Super Beth walks you through the performance step-by-step to examine how it all pulls together to create a dynamic visual experience for the audience.
Please note: By enrolling in any of the courses on FCBD®U, you are agreeing to our Terms and Conditions
Course Curriculum
Section
Available in days
days after you enroll
Your Instructor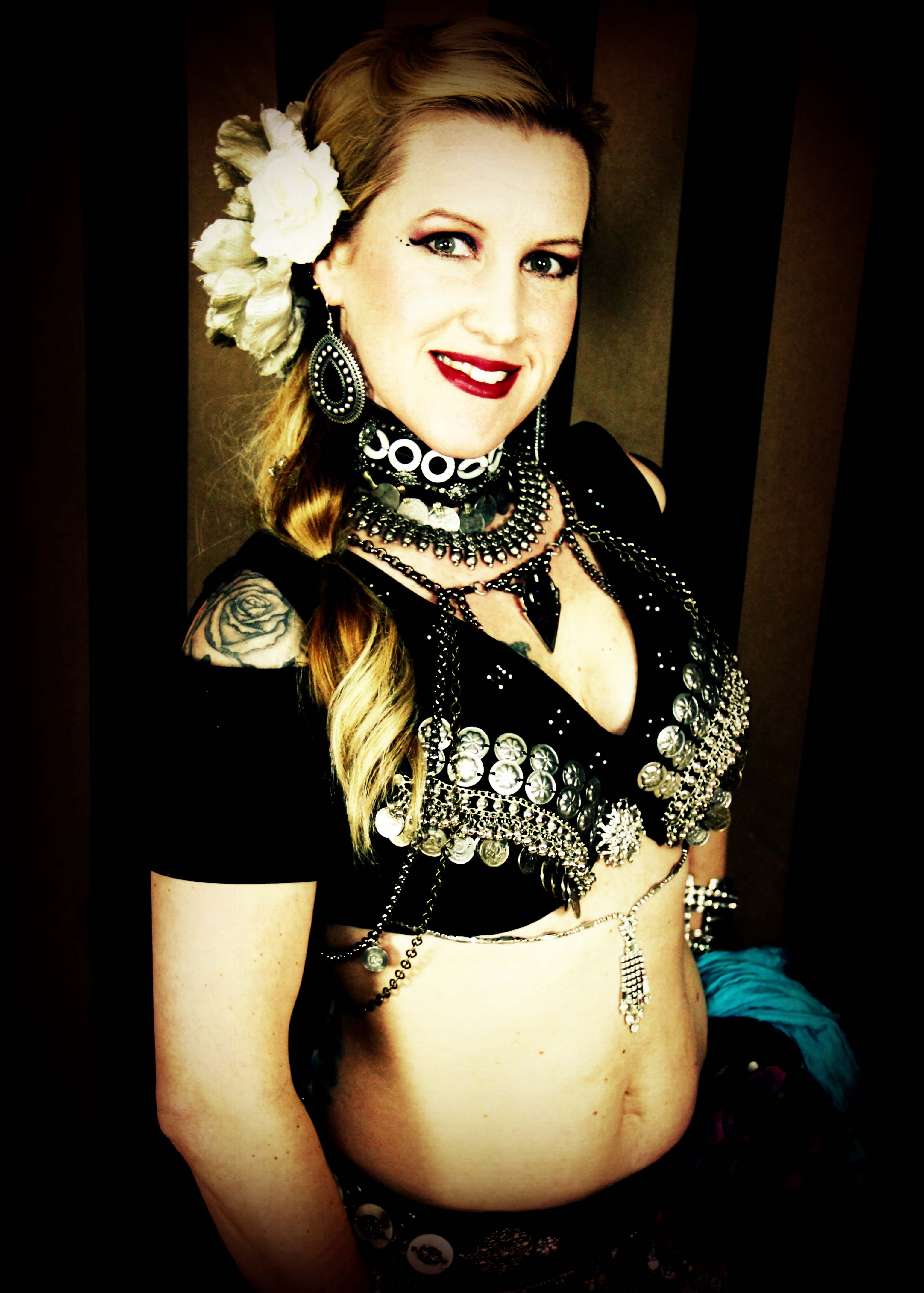 Super Beth is owner of Tamarind Studio and director of Tamarind Belly Dance in Milwaukee, WI. A founding member of the troupe, she began her studies into belly dance in 2005. She is known for her high energy performance and instruction, her passion for student growth, and innovative group work.
In addition to being a 1st generation certified teacher of Zoe Jakes' Dancecraft® format, Super Beth has studied with Carolena Nericcio, creator of ATS® and Director of FatChanceBellyDance® (FCBD®) in San Francisco and was granted Sister Studio status in 2008. Super Beth has had the extreme pleasure to study and dance with ATS® (FCBD®) legends and emeritus Kristine Adams, Kae Montgomery, Anita Lalwani, Wendy Allen, and Sandi Ball, and other creators of movements accepted into the ATS® (FCBD®) format: Megha Gavin of Devyani and Devi Mamak.
Super Beth has been a sell-out headliner and is widely sought out to teach both domestically and abroad as the creator of the Tamarind Troupe Transformations® dance format with the group's own unique, improv-based repertoire of tribal movements, group formations, and prop work.
Super Beth has created, appeared on, and produced several DVDs including several Tamarind movements that have been accepted into the format on FatChanceBellyDance® (FCBD®) Volume 9 DVD Anatomy of a Step, ATS® with Props", and Spirit of Seville Fan and Skirt Combinations for ATS®.
Super Beth has studied a variety of Middle Eastern dance styles herself for well over a decade as well as Flamenco, Tap, and Ballet (including taking classes with the Lenningrad Ballet and Phantom of the Opera Dancers). In addition, Super Beth has attended regular workshops and/or classes with BellyDance Legends Morocco and Tamalyn Dallal, BellyDance Super Stars® Rachel Brice, Zoe Jakes, Moria Chappell, Mardi Love, and Sharon Kihara, Jill Parker, Amy Sigil, Samantha Riggs, Paulette Rees-Denis, Ariellah, and many others within the belly dance community.
Super Beth has performed at over 300 events and continues to perform at community events, festivals, as well as hosting her own annual event "Tamarind Tribal Union" in Milwaukee, WI. She has also performed and collaborated with well-known dancers such as Devi Memak, Mimi Fontana, Kristine Adams, Silvia Salmanca, and others. In addition, Super Beth has performed with several live bands including Brothers of the Baladi, Beats Antique, Stoneburner, Dikanda, Peasants Abroad, and Djinn.
Super Beth holds weekly classes in ATS® (FCBD®) and fusion for all levels and ages in the Milwaukee along with private students.
A mother of 3, Super Beth hopes you find as much joy and happiness in ATS® (FCBD®) format as she has over the years!
Frequently Asked Questions
When does the course start and finish?
The course starts now and never ends! It is a completely self-paced online course - you decide when you start and when you finish.
How long do I have access to the course?
How does lifetime access sound? After enrolling, you have unlimited access to this course for as long as you like - across any and all devices you own.
Terms and Conditions:
The website is owned by DeAnna Freeman and Prana BellyDance and Yoga, LLC

By viewing this website or anything made available on or through this website, including but not limited to [PROGRAMS, PRODUCTS, SERVICES, OPT-IN GIFTS, E-BOOKS, VIDEOS, WEBINARS, BLOG POSTS, E-NEWSLETTERS, CONSULTATIONS, E-MAILS, SOCIAL MEDIA AND/OR OTHER COMMUNICATION][INCLUDE ALL THAT APPLY TO YOU] (collectively referred to as "Website"), you are agreeing to accept all parts of this Disclaimer. Thus, if you do not agree to the Disclaimer below, STOP now, and do not access or use this Website.

1. FOR EDUCATIONAL AND INFORMATIONAL PURPOSES ONLY.
The information provided in or through this website is for educational and informational purposes only and solely as a self-help tool for your own use.

We think this goes without saying, but as a reminder, this is physical exercise and while our instructors be guiding you through each and every step, it is an online course so we are not able to physically see you to correct movements. We trust everyone to work to their own edge and take breaks or back off intensity as needed.
We recommend you consult with your physician before beginning any exercise program. You should be in good physical condition and be able to participate in the exercise.
If you engage in this program, you agree that you do so at your own risk, are voluntarily participating in these activities, assume all risk of injury to yourself, and agree to release and discharge DeAnna Freeman and all instructors on this websute from any and all claims or causes of action.**

2. NOT MEDICAL, MENTAL HEALTH, OR RELIGIOUS ADVICE.
Instructors of FCBDU are not, and not holding ourselves out to be a doctor/physician, nurse, physician's assistant, advanced practice nurse, or any other medical professional ("Medical Provider"), psychiatrist, psychologist, therapist, counselor, or social worker ("Mental Health Provider"), registered dietician or licensed nutritionist, or member of the clergy. As Health Educators, Yoga Instructors and/or Dance Instructors, we are not providing health care, medical or nutritional therapy services, or attempting to diagnose, treat, prevent or cure any physical, mental or emotional issue, disease or condition. The information provided in or through this Website pertaining to your [HEALTH OR WELLNESS, EXERCISE, NUTRITION, RELATIONSHIPS, MENTAL HEALTH, LIFESTYLE], or any other aspect of your life is not intended to be a substitute for the professional medical advice, diagnosis or treatment provided by your own Medical Provider or Mental Health Provider. You agree and acknowledge that we are not providing medical advice in any way. Always seek the advice of your own Medical Provider and/or Mental Health Provider regarding any questions or concerns you have about your specific health before implementing any recommendations or suggestions from our Website.
3. INDEMNIFICATION AND RELEASE OF CLAIMS.
You hereby fully and completely hold harmless, indemnify and release me and any of my agents, consultants, affiliates, joint venture partners, employees, shareholders, directors, staff, team members, or anyone otherwise affiliated with my business or me from any and all causes of action, allegations, suits, claims, damages, or demands whatsoever, in law or equity, that may arise in the past, present or future that is in any way related to this Website.

4. NO ENDORSEMENT.
References or links in my Website to the information, opinions, advice, programs, products or services of any other individual, business or entity does not constitute my formal endorsement. We are merely sharing information for your own self-help only. We are not responsible for the website content, blogs, e-mails, videos, social media, programs, products and/or services of any other person, business or entity that may be linked or referenced this Website. Conversely, should this website link appear in any other individual's, business's or entity's website, program, product or services, it does not constitute my formal endorsement of them, their business or their website either.


If you have any questions about this Disclaimer, please contact us at [email protected]